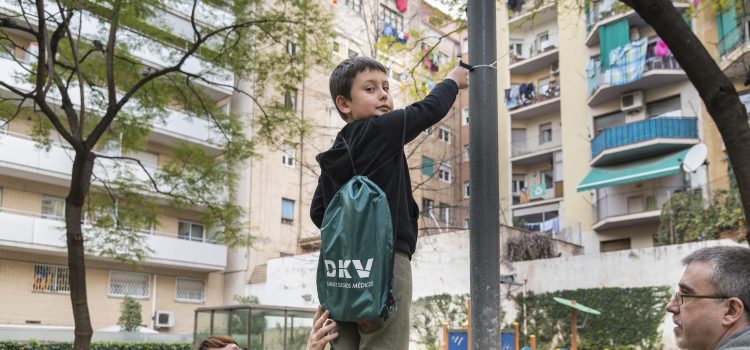 Every day, more citizens are concerned about the air quality in their local environments and are willing to take action against it.
The education community of Barcelona (Spain) took this concern to initiate an ambitious, pioneering and inter-generational air quality monitoring initiative, xAire.  NO2 concentrations will be measured in over 800 locations around the city and more particularly, near schools.
The initiative, launched by Estació Ciutat (Centre of Contemporary Culture, Institute of Culture and Barcelona City Council), has been inspired by Mapping for Change's methodology, a citizen science approach deployed with several communities in London for more than 10 years. It has been possible thanks to the sponsorship of DKV and 4Sfera Innova and the collaboration of ISGlobal, Mobile Week Barcelona, Mapping for Change, OpenSystems (University of Barcelona), and the Barcelona Education Consortium's 5th Science Congress.
On January 19th more than 100 school representatives including teachers and parents attended the xAire project presentation. Project coordinators -Josep Perelló and Amanda Masha- together with their collaborators, explained the proposed methodology and received feedback from participants. Over the period of a month, families and teachers from 18 schools have coordinated to design the monitoring in their neighbourhoods, choosing the most relevant locations to install the diffusion tubes.
Finally, on Friday 16th of February, teachers, parents and students erected, simultaneously, 810 diffusion tubes to capture NO2 concentration, the biggest monitoring action in the country so far. xAire received extensive media coverage including  La Vanguardia newspaper, Ara newspaper, Betevé news (min 15:22) and Radio Barcelona – Cadena Ser.
The tubes will monitor an area of about 800 hectares -around 10% of Barcelona city extension- and will remain up for 4 weeks. The results will be made available for everybody through Community Maps, our online mapping tool.
We would like to congratulate all the participants and organisations involved in this outstanding initiative. We hope it can raise awareness among the local population and can inspire more communities worldwide to take action against air pollution.