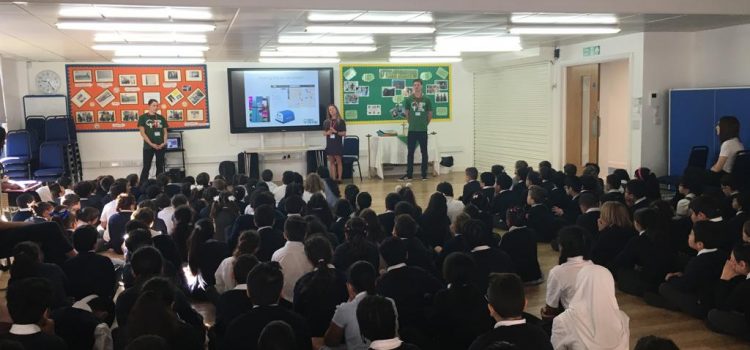 Mapping for Change has teamed up with the environmental charity Trees for Cities and Lancaster University to launch an innovative new programme called "Planting Healthy Air in Schools" to help improve the air quality and outdoor experience of children and teachers in some of London's most polluted schools.
Through Planting Healthy Air in Schools, Trees for Cities will redesign parts of the playground where air quality is particularly poor, planting trees and other vegetation to filter out airborne pollutants, as well as creating woodland shelters and wildlife areas.
The Deputy Chief Executive at Trees for Cities, Kate Sheldon states, "Planting Healthy Air gives schools the tools to take positive action so that they can help protect their pupils from the devastating health effects of exposure to air pollution whilst in the playground. We're under no illusion that trees will solve the problem, but they certainly help, and bring a whole host of other benefits besides."
Playground to be greened up

Seating area to be planted
With help from the pupils, Mapping for Change and Lancaster University will monitor how pollution levels change over the course of 12 months by measuring nitrogen dioxide (NO2) and particulate matter. Lancaster University will also advise on the type and location of green infrastructure such as vegetation screens, planters and trees, and evaluate the effectiveness of the planting in reducing pollution.
Pupils learning how to monitor air quality

Citizen science
Mapping for Change will deliver a behaviour-change citizen science programme within the schools. Through taking part in citizen science and workshops, the children will learn more about how to reduce their contribution to air pollution and also their exposure to it.
This year, the programme will work with three primary schools in London, each of which are situated near busy roads (Marylebone High Road, A13 and the North Circular) where air pollution levels are known to exceed EU standards:
Christ Church Bentinck CE Primary School, London Borough of Westminster
Woolmore Primary School, London Borough of Tower Hamlets
Tudor Primary School, London Borough of Barnet
Planting Healthy Air was first launched at St Paul's CE Primary School in Hammersmith, This project recently won a prestigious London Tree and Woodland Award.
The Headteacher at Christ Church Bentinck School reported, "We are really excited and looking forward to working with Trees for Cities and the partners to support cleaner air initiatives. As a school located in an area where the level of air pollution is often high, we want parents and pupils to gain a better understanding of the environment in which they live. This project will allow us to monitor air pollution and enrich the school's grounds through tree planting and greening in order to screen the playground from pollutants. The project has huge cross-curricular benefits and will increase pupils' understanding of nature, the environment,  the cause and effect of pollution and how we can work together to mitigate the negative impact of harmful air."
Planting Healthy Air projects this year are funded by the Mayor of London, London Borough of Tower Hamlets, Tower Hill Trust and MOJU.