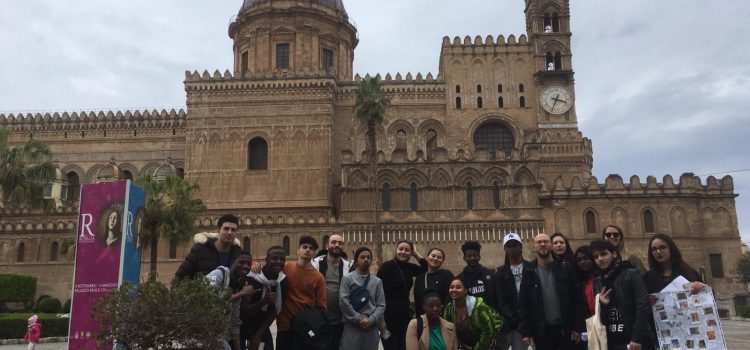 Back in September 2018, Mapping for Change embarked on a new project – Urbex – using urban exploration as a way of engaging disadvantaged young people. This week we will be hosting the final meeting of partners in London to bring the project to a close and discuss our experiences.
The aim of this Erasmus+ funded project was to bring together the knowledge and techniques of five European partners and deploy these in five local contexts. A week of training for the partners and youth workers from each city (Mapping for Change – London, Tesserae – Berlin, Bond of Union – Palermo, Prostorož – Ljubljana and Dramblys – Albacete) was delivered in January in Palermo, Sicily. During the week, we exchanged methods, approaches, experience and ideas on the best ways to engage disadvantaged young people in urban exploration.
For this project, Mapping for Change partnered with a local charity, The Pilion Trust, which supports young people who have experienced, or are still experiencing, homelessness in Islington. We worked with the young people over a series of eight workshops between February and June, which included: Map my World; Islington as a Person; Perception Mapping, Street Art; Photography and 'Being a Tourist'.
Getting creative with street art

Facing fears on the Cable Car
In April, eight of these young people traveled with us from London to Palermo to meet the groups of young people from the other four cities involved in the project and apply urban exploration in a different environment. Around 50 young people spent a week attending various workshops to learn about the neighbourhood of Capo and urban exploration and develop some ideas for improving the area. Perhaps more importantly, they also learned about each other; gained an understanding of the various cultural differences (and similarities) between and within the groups; increased their confidence in presenting their ideas and had a positive experience away from their day-to-day stress.
Despite having over a decade of experience in community engagement, the Mapping for Change team also learned a lot from the project about engaging with disadvantaged young people, beyond the knowledge exchange within the partnership. Some of the most important points we learned were:
Find some common ground – what interests the young people and how can this fit with your agenda to increase and sustain interest.
Be flexible and have a plan B – we cannot predict a lot of things, such as attendance (or especially the weather in London!)
Go to their space, not yours – do not expect young people to pay transport costs or travel out of their place of comfort or safety to attend a workshop.
Work to their schedule, not yours – many of the young people were working / training or trying find work or a home – their availability is limited so hold evening/weekend workshops etc.
Appreciate that priorities change according to life situations – finding a job or home takes priority over the project, as does family emergencies or mental health issues.
Build mutual trust and respect – being young does not mean they have less experience or knowledge in particular subjects, especially urban life, so respect their contributions.
Listen and be patient – some young people lack confidence and are not used to an educational or formal workshop setting so may take time to settle in or speak up in an interactive session.