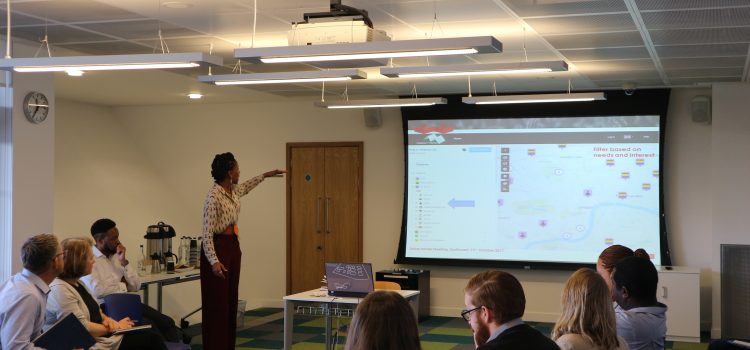 Understanding the needs and aspirations of different actors in the collaborative delivery of public sector services were among the goals of a stakeholder workshop held in October at the Canada Water Library. Key representatives from the London Borough of Southwark, voluntary sector organisations, and partners of the WeGovNow project engaged in an interactive and lively discussion.
The main objective of the event was to introduce and demonstrate the current prototype of the WeGovNow platform to relevant stakeholders and to raise awareness about the potential benefits of the platform in generating new ways for local residents, communities and the council to engage with each other. The workshop was also designed to get feedback from prospective users of the community engagement platform, including citizens, civil society organisations, civil servants and policy makers.
The workshop was held in two tailored sessions. Representatives from different departments within Southwark Council attended the morning session and had the opportunity to get a demonstration of the capabilities of the WeGovNow prototype and the potential it has to optimise public administrative engagement practices. Targeted at local non-government organisations and citizens' networks, the session held in the evening focused on citizen-government communication. By integrating interactive features such as a social network, a citizen resourcing system and our Community Mapping application in tandem with a voting and discussion platform, WeGovNow can enhance collaboration among residents and local authorities, and organise decision making processes in a more transparent way.
All 35 participants were happy to learn about the opportunities WeGovNow is expected to offer. At the same time, some very useful feedback was received in relation to functionalities provided as well as the way in which the platform could be incorporated into day-to-day work internal to the council. Pertinently, issues linked to the synergy of offline and online public service delivery and engagement, one of the pillars of our engagement approaches, were raised and have to be taken into consideration for a successful future implementation in Southwark.