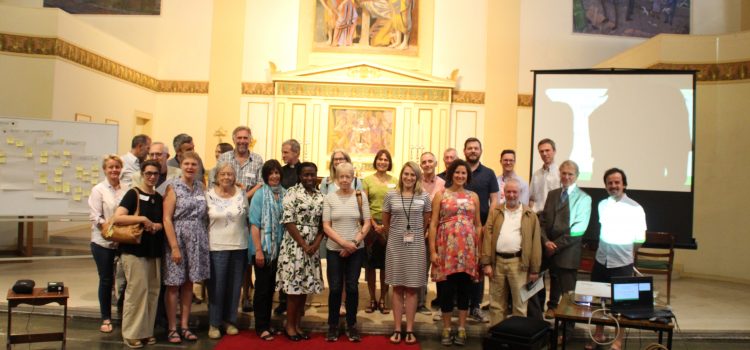 On Wednesday 14th June, over 45 local residents and stakeholders gathered in St John's Church in Waterloo to discuss the results of a community-led air quality monitoring programme in Lambeth.
Some of the key findings from the Love Lambeth Air project highlighted the fact that only 4 out of 34 locations monitored for nitrogen dioxide fell within the EU legal limits (annual mean). In one site, located under Waterloo Bridge Road, a measurement of 109μg/m3 was recorded – the legal limit is in fact 40μg/m3 (annual mean). The north of the borough was also found to have poorer air quality in general over the six month period.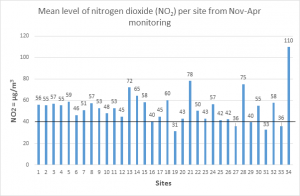 Figure 1. Shows the average level of NO2 at each site over the 6 months of monitoring. The black line represents the EU legal limit of NO2 (annual average).
The event highlighted the results of the Love Lambeth Air project, developed by Mapping for Change and Lambeth Council, and included guest speakers from other London based air quality monitoring projects. Speakers included Sarah Hudson from the Barbican Estate and Sheila D'Souza from Marylebone who presented along with Cllr Jennifer Brathwaite from Lambeth, May Van Schalkwyk from Public Health and Ben Stephenson from South Bank and Waterloo Neighbourhood Forum.
Figure 2. Shows photos taken at the Love Lambeth Air event of speakers and the panel during the Q&A session.
Following the presentations, all speakers participated in a Q&A panel discussion session followed by an action building session to share ideas on how to improve local air quality going forward. Event attendees established a number of ideas for individual action, collective action, action for Lambeth and action for the Mayor. From planting up outside spaces, to car free days and restricting use of HGVs at construction sites.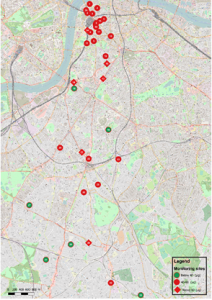 Figure 3. Shows the average level of NO2 at each site over the 6 months of monitoring. 
Mapping for Change has been running the Love Lambeth Air project, which provided local people with the materials and support required to collect measurements for nitrogen dioxide (NO2) across the borough. This was the first time Lambeth residents have been able to get a detailed picture of air quality – particularly in areas where no monitoring is currently undertaken by the council. Currently there are only three static air quality monitoring stations across Lambeth borough. So this project will provide local people with the chance to know what the air quality is like in their neighbourhood.
A snapshot of the project results can be found here.
If you would like to find out more, have any queries or would like to receive a copy of the final project report or results please email the team at: lovelambethair@mappingforchange.org.uk.