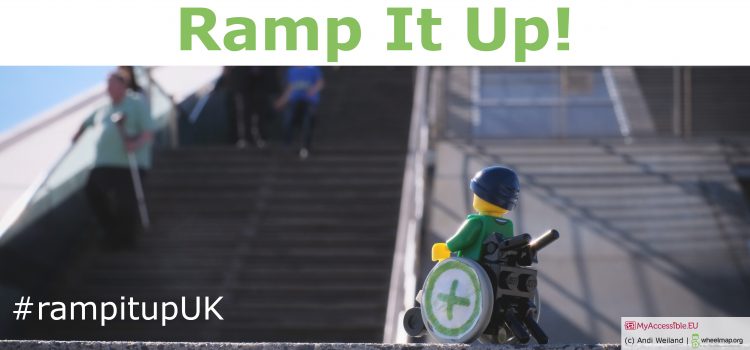 Mapping for Change is inviting communities from around the UK to help their towns and cities become more wheelchair friendly. We are calling on you to 'Ramp it Up!' and have launched an exciting competition to encourage your local business owners to get on board.
Those one or two steps at the entrances of buildings should not be a barrier to those with limited mobility. Nor should they stop business owners from accessing an estimated £200bn of spending power from disabled people in the UK. A wheelchair ramp is a simple way to counter those steps, even on listed buildings or rented premises as it is completely portable.
Throughout the remainder of November, business owners and their customers are invited to nominate a shop, restaurant, theatre, or any other building which is open to the public. Simply upload a photo of the entrance along with a few details to our Facebook contest page or share the photo of the entrance on Twitter using #rampitupUK, then encourage customers and friends to vote. 10 businesses with the most votes will be offered a portable aluminium ramp, which is ideal for bridging 1 or 2 steps.
The 'Ramp It Up!' social media contest is designed to spark community interest, raise awareness and guide businesses towards opening up their services to disabled people. This combined with the free app 'Wheelmap' will go some way to improving the accessibility of our towns and cities.
'Ramp It Up!' will be promoted across the United Kingdom and on social media. Submissions will be reviewed for eligibility and the winners will be chosen based on the number of votes they receive on Mapping for Change's contest page. The winners will be announced on December 3, timed to coincide with International Day of Persons with Disabilities.
Click here to enter the contest and to view the submissions gallery and vote.
About the Ramp: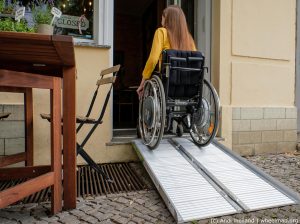 Made of aluminium with fluted surface
Integrated handles for easy transport
Bridges a maximum height of 25 cm
Weight: approx. 9.2 kg
Rated capacity: approx. 270 kg (no load)
Running area: approx. 70.5 x 121.5 cm
Side supports: approx. 4.5 cm high
The contest is an extension of the MyAccessible.EU project, a three year research project funded by the European Union aimed at improving accessibility for people with mobility impairments in European cities.