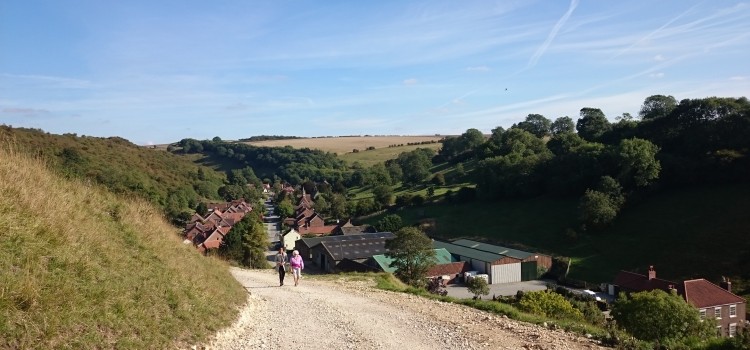 On Tuesday morning, the Mapping for Change team dusted off their walking boots and hopped on a train to Yorkshire for the 2nd of our Access the National Trails mapping workshops.
Train cancellations and delays could not deter us from our mission to map a section of the glorious Yorkshire Wolds trail. By midday we were in York, then en route to the small village of Thixendale, which lies around 20 miles West of York. The trail carves its way directly through Thixendale, on its 80 mile journey between the towns of Hessle and Filey.
With its final stile recently being removed (see article), the Yorkshire Wolds trail has become the first in England to be totally stile-free, making it a fantastic place to carry out our activity and raise awareness about accessibility. Although other obstacles to accessibility do remain, removing fundamental barriers such as stiles is a hugely important step in making trails passable.
Given Thixendale's rural location (the last place in Britain to receive television signal!), we had to adopt a slightly different methodology to other workshops, where we had collected information using mobile apps that uploaded directly to map servers. Mapillary, an image collecting application, works regardless of mobile signal strength, using simply GPS to geolocate images. To collect information about particular obstacles such as gates and steep slopes, we used Sapelli , an application developed by the UCL ExCiteS research group for use in the Congo Basin (an area with similar mobile reception to Thixendale!).
After a brief introduction 15 of us headed out, phones first, along the trail. The first section heading East out of Thixendale is a steep ascent up the valley – a great way to burn off our tea and biscuits, or a grueling opener, depending on your point of view. Either way, the slope would pose significant problems for many people with limited mobility. Luckily, a flatter tarmac route exists too, which would be navigable for everyone. After 30 minutes of hiking, and 130 Mapillary images, we headed back to the village hall to discuss our activity.
Together, these apps allowed us to collect the same information in Thixendale as we had done in Eynsham. Both Mapillary and Sapelli work offline, but require an internet connection to upload the data once it has been collected. Given the lack of WiFi in the surrounding villages, this poses problems for participants looking to repeat the activity in their own time. This issue of rural data collection is something for the My Accessible EU team to consider in the coming months.
We would like to say a huge thank you to Malcolm Hodgson, and the people of Thixendale, for welcoming us so warmly and being fantastic participants. We will be planning more workshops in the coming months, so watch this space. Or, to find out more, get in touch at info@mappingforchange.org.uk.