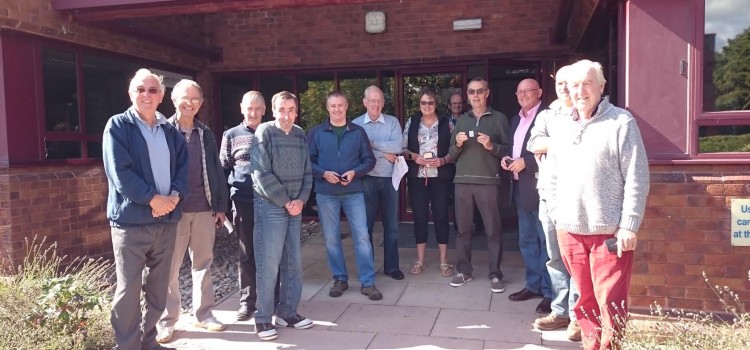 September weather averages defied all expectations last Friday as the sun shone down on the first Access the National Trails workshop in Eynsham, Oxfordshire. Our goal: to kick-start a national movement of volunteers keen to collect information about the accessibility of trails, using mobile phone applications.
On Friday morning, Mapping for Change and 20 keen volunteers gathered in a fully-booked meeting room, with more participants expressing their interest for alternative days. After several coffees and some teething problems with mobile phones and reception, we got underway and headed out into the sunshine. Any oncoming traffic would have been puzzled by the sight that met them: a crowd of pedestrians moving forward slowly, phones outstretched before them, pausing occasionally at a kerb or gravelled surface.
There are many features, facilities and conditions that influence the accessibility of National Trails. Everything from the availability of toilets, to the presence of stiles and steps, and details about path surface, gradient and width are all important factors which ultimately determine whether someone can visit a trail or not. Adverse or seasonal weather conditions can also temporarily or permanently alter paths' accessibility. A heavily-flooded trail, for example, could prevent even the most determined visitor, but other less severe weather can cause trails to become impassable for some, but manageable for others. In the context of walking trails, there are clearly many degrees of accessibility, meaning detailed and up-to-date information is required about each of the National Trails, in order for people to make informed decisions about which paths they would like or feel able to visit.
Access the National Trails is a nationwide initiative to collect such information, raise awareness about accessibility issues, and encourage businesses close to the Trails to make their premises accessible. Volunteers from across the country have signed up to participate in workshops and data collection activities, creating the first national drive of this kind to promote accessibility.
Our aim is to use different mobile applications to collect relevant data: Mapillary, Wheelmap and Obstacle Tagger (developed by the My Accessible EU team in Heidelberg). Mapillary captures street level photographs of paths, then stitches them together to produce one seamless route (a bit like Google Street View); Wheelmap enables people to rate the accessibility of different buildings and points of interest, such as bus stops or car parks; Obstacle Tagger allows users to document particular barriers they encounter, such as steps or stiles.
In Eynsham, our volunteers did a fantastic job kicking off the movement, collecting over 1500 images for Mapillary in under half an hour! We were thrilled with the reception from volunteers along the Thames Path, and are excited to continue our initiative with more volunteer groups across the country. Our next stop is Malton, Yorkshire, on the 29th of September.
If you are interested in collecting accessibility information, you can download an overview of the mobile applications used here, or email info@mappingforchange.org.uk for more details.