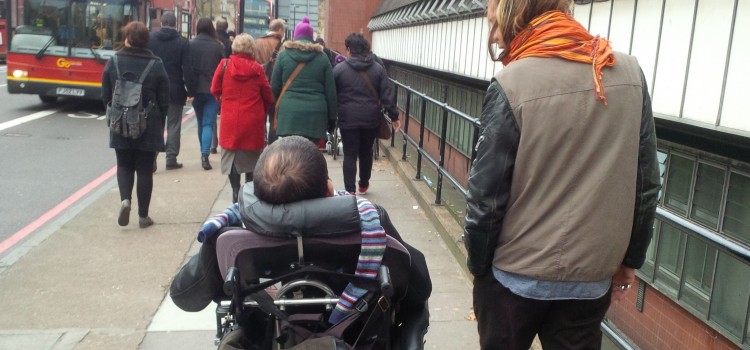 Accessibility. 6 syllables. Many more benefits for cities.
When many people imagine physical 'accessibility' in the urban context, what typically springs to mind is an assortment of glamorous and exciting objects: sloping ramps, roll-in lifts, maybe even dropped kerbs. True, these objects aren't entirely fascinating, but they are undoubtedly crucial for inclusive, accessible cities. Thankfully this blog isn't about dropped kerbs. Instead, it focuses on why we should all be championing accessibility. The reason? There are many unexpected environmental and economic benefits for doing so.
We explore a couple of highly significant but often overlooked reasons to promote more walkable urban places, and I promise they're more interesting than pavement design.
1. The environment!
Firstly, few would deny that our cities need to become more environmentally sustainable. As our own air quality monitoring work with communities across London has shown, many areas across the city frequently breech EU limits, and pose substantial health risks to those living nearby. What does this have to do with accessibility? As motorised vehicles are a major culprit, enabling more people to walk (or wheel!) will lead to reduced reliance on buses and private vehicles, ultimately paving the way for lowered emissions.
Many government and other research reports recognise this, and stress that walking or cycling are our chief allies in the battle against emissions. However, what they don't touch on so often, is the aforementioned nitty-gritty aspects which ultimately determine whether people can get around on foot or not! When championing sustainable travel in the city, we need to simultaneously push for accessibility improvements to be implemented.
2. Business and the high street!
Let's turn to the economy. Whilst the link between cracked paving stones and high street trade might not seem obvious, the two in fact are very closely aligned. Recent research conducted by Living Streets found a 40% increase in footfall and trading after public realm improvements to walkability had been implemented. TfL's walking department also point to this, noting that people who walk to town centres are more likely to spend more than drivers or people using other transport, as they naturally linger longer.
What makes the argument even more compelling for businesses is the figures on the 'purple pound'; the potential spending power of disabled people and their families, thought to be £212 billion a year. For many businesses, an inexpensive portable ramp is all that's required to turn the premises into an accessible destination. We're not guaranteeing your business will flourish – that part is up to you 😉
There are endless other reasons to campaign for barrier-free cities, but they will have to be the topic of another blog! In the meantime, check out what we're up to in our ongoing EU project, My Accessible EU. Or get a flavour of what's going on across the project at myaccessible.eu