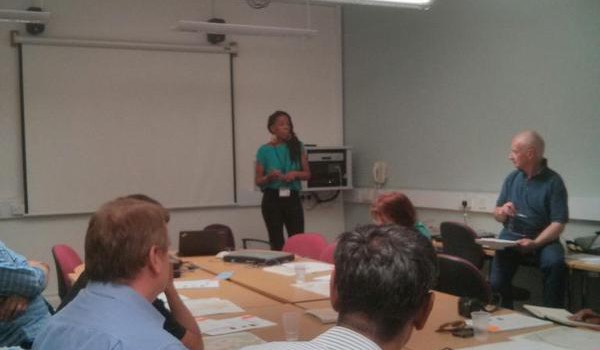 London's air pollution is a pertinent, under-acknowledged, and often shocking issue. Many communities are taking it into their own hands to discover just how polluted their local area is, by conducting Citizen Science initiatives to measure levels of nitrogen dioxide. Last night, 10 new community groups from across London ventured into UCL to collect monitoring equipment, and begin their collective local action.
After being overwhelmed by the number of (very hard to choose between!) applications, we've selected communities from across London to take part in this month's air quality monitoring, covering all corners of the city. Those taking part range from college students, to environmental activities, community associations, businesses, and groups of residents. All share a drive to understand the real levels of pollution in their schools, parks, streets and homes, and collect meaningful, compelling evidence to address the problem. Last night's meeting was a chance for communities to ask any questions about the process, and to get to know each other.
Nitrogen dioxide monitoring uses small plastic diffusion tubes, and is a fairly simple procedure. However, there are several pitfalls which, if not avoided, can result in your tubes getting in a bit of a twist! Firstly and most importantly, tubes are cool; they should be kept refrigerated at all times when not in use. Secondly, tubes come with two caps – a white cap and a grey cap. Tubes are very fond of these caps, so neither should be disposed of. The grey cap should NEVER be removed, and should face the sky when put up. The white cap should be removed while the tube is out collecting data, then replaced immediately at the end of the monitoring. The final potential pitfall is to RECORD where and when which tube is installed, with reference to each tube's unique barcode. This information allows us to map the results collected. If these steps are followed correctly, it's plain sailing.
A couple of hours and several flapjacks later, the communities headed out with their equipment and will begin to collect data next Wednesday on July 1st. One month later, they will return the tubes to us for laboratory analysis. A few weeks later, we will produce maps to visualise the levels of pollution that affect their local areas.
Interested in pollution levels around your local area? Mapping for Change have already supported many communities across London to conduct these kinds of Citizen Science projects. The results of previous work can be found on our Air Quality Monitoring Community Map – your community may well be among them.
If not, and your community is eager to conduct air quality monitoring, we will be opening another round of funding in the Autumn. For more details, please contact info@mappingforchange.org.uk.