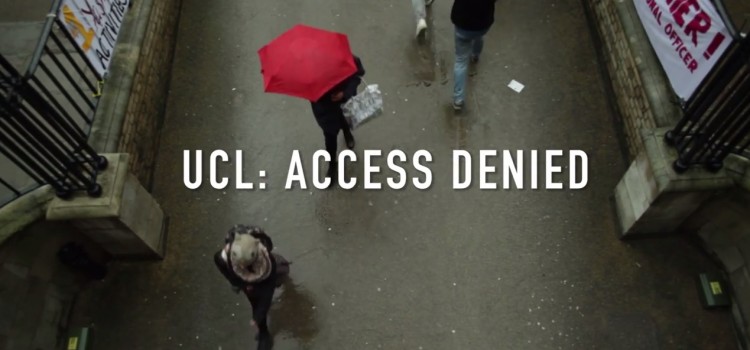 Last night, months of anticipation came to an end, and Mapping for Change navigated their way to the alien territory of Roberts' Engineering building for a very exciting launch party. The cause? UCL: Access Denied – a ground-breaking documentary produced by UCLU Disabled Students to highlight accessibility problems around Campus.
UCL is among the world's leading universities, in one of the wealthiest and most successful cities on earth. Every day, UCL academics make breakthroughs in fantastic and mind-boggling fields, from 3D printing, to string theory. There is no reason why, with our collective brain power and resources, the campus should still present such basic and debilitating obstacles for so many people.
UCL Access Denied followed UCLU Disabled Students' highly successful Try It! campaign, which ran in February of this year. It has already been highly influential, recently scooping the NUS Disabled Students' Campaign of the Year award, and attracting attention amongst UCL senior management.
Try It! offered students and staff the opportunity to experience what UCL life is like for wheelchair users. This was where we came in: Mapping for Change developed a series of student personas, all with ordinary tasks to carry out around campus. We asked courageous non-wheelchair user volunteers to map the route they would ordinarily take to fulfil these tasks, then to Try It! and attempt to follow that route in a wheelchair. Afterwards, they annotated the map with the actual wheelchair journey, and we were able to compare the two journeys. Overall, participants found it much more challenging than they'd imagined! Many returned panting, rosy faced and with slightly more muscly arms – more importantly, they were shocked by just how difficult they had found the journey.
The documentary featured participants in action (trying it!), along with interviews with disabled students, and well as high-ranking members of UCL staff including the Provost, and Head of Estates. It conveyed in direct, irrefutable terms, the terrible level of access that characterises so much of UCL's campus.
After the viewing, audience members divided into groups to discuss the issues in more detail, and brainstorm potential solutions. Mapping for Change (appropriately!) chaired the 'Maps and Signage' discussion, where we spoke with a member of the UCL estates team about what UCL are currently doing, what they could be doing, and what they should be doing. We discussed a range of solutions, including overlaying the existing campus map with wheelchair accessible routes, developing an 'accessible UCL' mobile app, and having a live fault reporting feed where people receive notifications of issues with lifts and other faults that will affect their journey.
Clearly, there is still a lot of work to be done. However, UCL: Access Denied is a significant step forward in raising awareness amongst those who have the power to oversee these important changes.