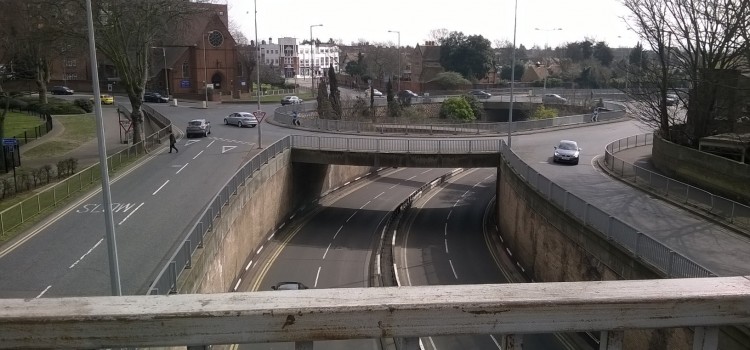 The boom in British road construction during the early twentieth century envisaged a better-connected future. However, busy roads can also confine and restrict us. On Monday, Mapping for Change met our Street Mobility project partners at Liverpool Street. We jumped on a train to Southend Victoria to continue our work on main roads; specifically, the negative physical and psychological impact of major arterial roads on older people.
Southend is the third of four pilot areas where we are testing this concept. All pilot sites contain residential areas that are divided by major main roads, with poor crossing facilities. In Southend, the area we are investigating is bisected by Queensway; a busy dual-carriageway road which passes East of the centre.
At the Northern end of our pilot area is the dramatic, multi-level Queensway roundabout Roads converge upon other roads, and pedestrian walkways intersect between roads, and across the sky. Pedestrians are encouraged not to cross at traffic level, with signs informing of multiple accidents in the past few years. However, 10 minutes spent observing the roundabout proved that few heeded the warning: groups of people, all ages and levels of mobility, navigated along the thin raised walkways alongside the railings.
No trip to Southend would be complete without a brief excursion to the sea, so we walked South through our case study area until we reached the beach. Until recently, the beach was bordered by a heavily-trafficked dual carriageway; Marine Parade. However, the local authority decided to reduce this road and create a 'shared-space' for vehicles and pedestrians, and commissioned Grontmij landscape architects to conduct these extensive alterations. Now, a steady stream of traffic runs alongside the water, but there is also ample room for feet and bicycles.
After our excursion we headed for the Southend Civic Centre. Located a mere 15 minutes from the town centre, we arrived there after a 45 minute hike – we won't mention who was responsible for the wayward navigation! The meeting also afforded us a chance to meet with members of the Southend Local Council, who were able to provide us with details of relevant community organisations, and information about traffic data-sets available.
Over the coming months, MfC will be conducting many visits to Southend. We will be seeking perspectives from local older people about their experiences of Queensway. If you are a Southend resident aged over 50, or know of someone who is, we would like to hear from YOU about your experience of the main roads.