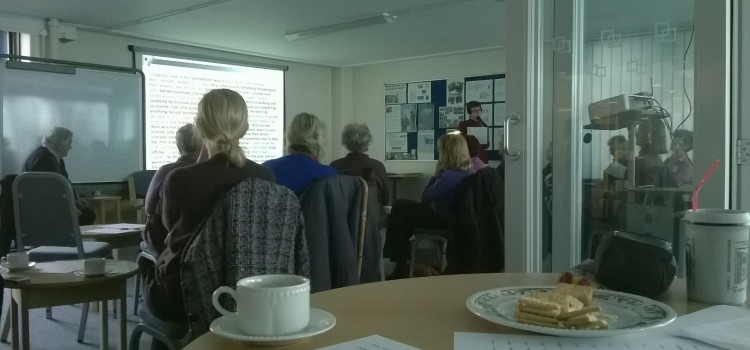 Yesterday morning, Mapping for Change ventured out of the office to attend one of the lively Kilburn Older Voices Exchange events; Older people and the street environment. Keen to discuss issues with accessibility, and factors which influence people's decisions to get out and about in their local community, we met at a snowy West Hampstead station and headed towards the Kingsgate Resource Centre.
Co-hosted by the British Society of Gerontology, and community group Kilburn Older Voices Exchange, the event had an assortment of presentations from academics and older people from the area, as well as a series of films made by members of the Older Voices group.
Everyone knows that all excellent events begin with tea, coffee and biscuits, and this one was no different. We all raised our caffeine levels and got to know each other, giving us plenty of time to speak with local people. One gentleman described life in Kilburn as "like being on an island". His experience was that the area was poorly connected for older or less mobile people, with inaccessible transport links the primary cause of this isolation. He explained that a lack of step free access to the Jubilee line, along with no step-free access from Willesden Junction to Gospel Oak, and West Hampstead to Euston on the overground, meant people often had to rely on taxis to get around.
Several presentations from academic researchers were also incorporated. Sheila Peace, a Professor of Gerontology from the Open University, gave an excellent presentation about contested and avoided spaces, particularly the different ways that age-groups 'lay claim' to areas at particular times of day.
This was followed by a presentation from Rita Newton, a senior lecturer from Salfrod University, which focused on how the design of the built environment can influence different age groups. Two examples that were raised consistently by participants as essential for their wellbeing were benches and public toilets. Many residents explained that they tended to avoid areas or routes they knew to be without toilets, and had detailed mental maps of all nearby public toilets ready to guide them. However, nobody particularly enjoys that uncertain and frantic hunt for a toilet when out and about! One resident described how, in 2006, a group of older people and parents with pushchairs had united to produce For Your Convenience; a leaflet which documented all toilet facilities on Kilburn High Road. The group even acquired permission from shop and restaurant owners to allow members of the public to use their facilities. Together, they were able to persuade many local amenities to open their doors for those in need (of relief!). Toilets: the backbone of every strong alliance!
Another major issue that people were keen to discuss was crossing the road. A mixture of uncertain or rushed crossing times, lack of audio or alternative forms of signalling, and aggressive or unpredictable drivers, were all raised as problems. KOVE recently conducted a project around Euston road in central London, and found that crossing times vary from a whopping 62 seconds to a Usain Bolt-esque 7 seconds – barely time for many people to realise the lights have even changed!  In 2012, research conducted by Dr Laura Asher of UCL found that most older pedestrians struggle to cross the road in time. Clearly, more needs to be done to ensure that crossing times are fairer and more appropriate for everyone.
As well as physical aspects of the environment that might limit people's ability or decisions to get out and about, both speakers' presentations and group discussions raised other psychological or perceptual barriers to mobility, including the fear of crime. Figures compiled by Age UK show that older people are the most afraid of crimes happening to them, but are in fact the least likely age group to experience this. This fear can often dictate people's decisions about where or when to go out, and often prevent them from going out at certain times entirely.
Overall, we were very well looked after by our excellent hosts, and have a lot of new information to think through. We'd like to thank all the participants who took time to speak to us, and the two hosting organisations, for an insightful and entertaining day.