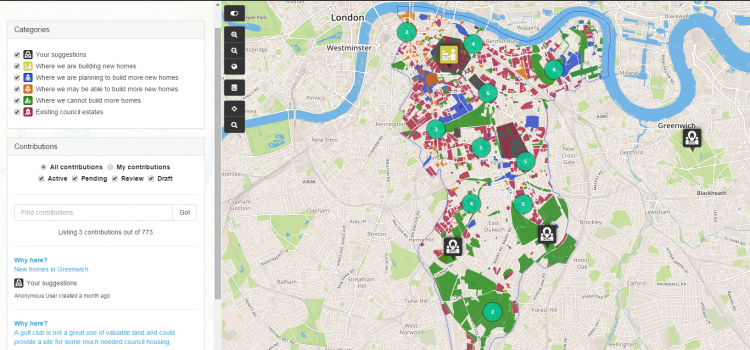 This information sheet has been developed to highlight the way in which local councils can utilise a map-based ICT service to deliver positive outcomes for its customers in relation to housing and regeneration consultations. This document sets out an outline of the services offered by Mapping for Change, a social enterprise owned by University College London.
The rate of change in ICT is rapid and growth in the uptake of technologies such as mobile devices, social media, high-speed broadband and open data, presents huge opportunities for the council. The new technologies being deployed and adopted by the public sector are bringing in new, innovative ways in which citizens and businesses interact with public authorities; new ways of working for administrations themselves; and providing new business opportunities.
In the context of regeneration and building new homes, it is widely recognised that community consultation and involvement must play a key role in informing the development of any housing development or regeneration plan. Genuine community engagement is more cost effective and leads to easier long-term management and commercial viability for projects.
Mapping for Change (MfC) have developed a consultation mechanism that facilitates open and transparent dialogue between all the stakeholders involved in any regeneration project, combining ICT technologies with more traditional face-to-face engagement. Our experience is that mapping is a powerful way to build engagement with communities as well as visually represent information, helping to draw new links and ideas and build consensus. Using both digital and paper-based maps, residents, irrespective of their digital literacy, are able to participate in decision making processes.
Southwark Council Case
Southwark Council commissioned MfC, in 2015, to aid and support the work of the Council, in its pledge to build 11,000 new homes over the next thirty years.  An interactive mapping platform has been developed that will enable residents to help the Council identify where new homes should be built and participate in the decision making processes throughout the programme.
The Southwark Community interactive map has been built using the latest version of our custom developed open source platform, whilst incorporating new functionality based on the specifications and requirements outlined by Southwark Council.
Sean Backhurst, Service Development Officer, Southwark Council said:
"MfC were able to meet every requirement in our specification at short notice and for a very competitive price. We were particularly impressed with the comprehensive methodology they supplied, which gave us confidence they would be able to deliver what they had promised.
MfC also provided insightful advice and guidance when they felt a particular request would have a detrimental impact on the usability of the map. Requests were responded to very quickly and given careful consideration. The map was finished on-time, within budget and to an excellent standard."
Online community based maps do not exist in isolation but work best when they are part of a wider strategy or action plan; maps can be produced on different scales and layers to suit the needs of those involved.  Mapping for Change can offer different levels of support from developing an entire online interactive mapping system to simply offering an initial consultation workshop and access to the relevant ICT tools.
Mapping for Change (MfC) is "a social enterprise specialising in participatory and community mapping projects, which focuses on providing mapping services to public, private and third sectors."
MfC is well positioned to provide services within the area of regeneration and community consultation. It is based on 15 years of experience in online and offline community mapping projects at University College London, with an emphasis on participation, community engagement and capacity building in tandem with user-friendly digital technology.
We would be happy to discuss our services in more detail at any time. For further information contact:
Contact Louise by
emailing
or calling 020 7649 2296.