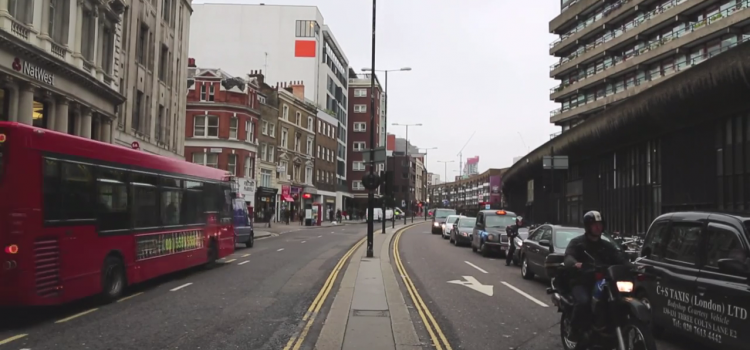 Air pollution levels in UK cities are much worse than many of us realise. London, unsurprisingly, is no exception. Mapping for Change have been working with residents in the Barbican Estate, City of London, to measure air quality levels since October 2013. To celebrate our achievements, we have produced a short documentary about the project processes, and our shocking findings.
Air pollution is thought to contribute to up to 29,000 deaths in the UK each year, with 1 in 12 deaths in London linked to particle air pollution. Although the EU has safety limits for maximum NO2 (nitrogen dioxide) levels, these are frequently breached, and often doubled, in many parts of London. Oxford Street breached its 2015 NO2 hourly limits by January 4th; Putney High street by January 5th.
Since 2008, Mapping for Change have supported many communities to undergo Citizen Science air quality monitoring projects in their local areas. In late 2013, two groups of residents in the City of London began to measure air pollution levels around their estates.
This documentary investigates the project underway in the Barbican; an estate near the centre of London. The film follows several local residents, and explores the reasons why they felt the project was important, how they got involved, and what their role entailed. Also featured are the City of London local authority representative, John Averns, and Director of Clean Air in London, Simon Birkett, who gives his perspective on the importance of these types of Citizen Science initiatives.
The video is available here:
Alternatively, you can view the video via Youtube, by following this link.
In January 2015, four more community groups began monitoring air pollution levels in their areas of London. If you are concerned about air pollution in your area, or are interested in participating in a Citizen Science initiative, do not hesitate to get in touch with us: