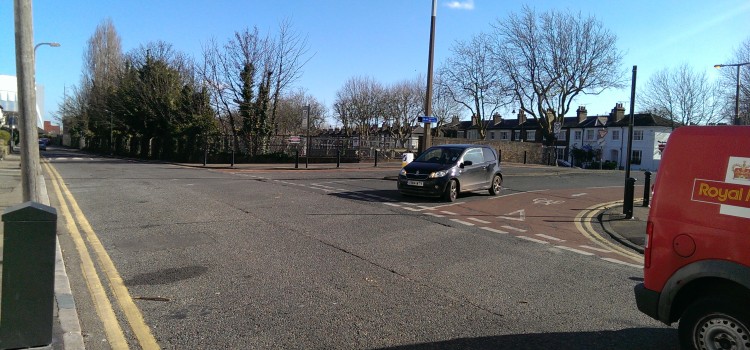 As we get older, there are various personal, social and environmental factors which may limit the amount we go out and about in our local area. One of these relates to the physical layout of our neighbourhood, particularly how walkable it is, at a time when we start to become less mobile. This week, Mapping for Change have been in Southend-on-Sea, to begin our investigation of how the local community responds to the area's busy main roads. Extreme self-control also saw us resist the temptation to eat fish and chips! We hope you're as proud of us as we were.
Southend-on-Sea is the third case study area in an ongoing research project, Design for Wellbeing. Several communities, all characterised by the presence of major roads or other transport infrastructure, are being examined in this three-year project. The research includes detailed feedback from residents, as well as statistical data about traffic density and speed, and will ultimately seek to make recommendations about how best to design walkable and inclusive urban places. Our role has been to engage the local people and discover what issues they experience with these areas; busy main roads.
In Southend, the road in question is Queensway. This is a 4-lane highway, with a grassy central-reservation, and only one traffic-light controlled crossing. To the West is Southend's main commercial core, with shops, arts venues and universities. To the East, there is mainly an abundance of residential streets, with only a few commercial venues dotted amongst them.
As we wandered around the area, trying not to look too suspicious with our cameras and notebooks, we noticed that a steady trickle of people were using the traffic-light crossing, but that several bus routes crossed over Queensway from East to West. These seemed to be well-used, although not all were particularly frequent.
In brief discussions with local residents, including staff from several sheltered housing associations, the problem of insufficient crossing facilities for older residents was raised:
"I worry about them crossing, particularly the ones with mobility scooters who are a bit slower. There is no pedestrian crossing in front of their block on Southchurch road, even though we've been fighting with the local council to get one for years".
Clearly, Queensway is not the only major road affecting people's mobility in Southend. Local knowledge and insights such as this will be hugely important going forward with the research, and over the coming months, Mapping for Change will be revisiting Southend and gaining further perspectives from older people in the community.