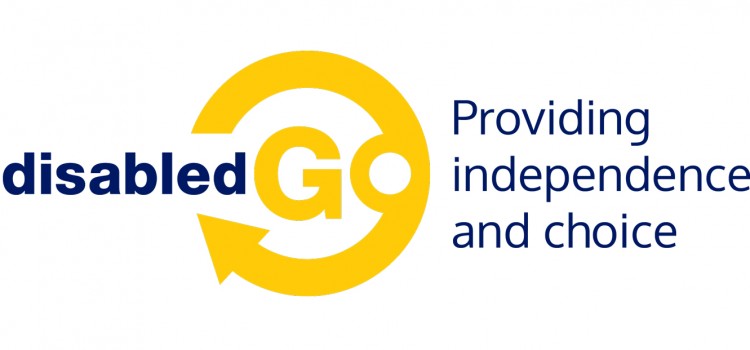 A new DisabledGo study published on December 7th 2014 highlights the inaccessibility of the British High Street to disabled people – the research underlines the importance of the MyAccessibleEU project that Mapping for Change are currently working on with our EU partners to improve  the availability of on-line accessibility information.   The DisabledGo research, which spanned across 30,000 shops and restaurants nationwide, found that less than a third of departments have accessible changing rooms, two thirds of retail staff have no training in how to help disabled customers and 40% of restaurants have no accessible toilet.  The news comes as Britain's 12 million disabled people begin their Christmas shopping and head out to celebrate the festive season with their work colleagues and friends.  Find details of the DisableGo research in their following press release:
DisabledGo visited and assessed every one of the 30,000 venues in person from a pan disability perspective. The research found a fifth of shops excluded wheelchair users, only a small fraction of restaurants and shops have hearing loops and three quarters of dining establishments do not cater for those with visual impairments. When DisabledGo contacted leading chains direct to gather extra information only a tiny proportion responded. (4% of 105 national retailers and 5% of 58 UK restaurant chains)
Minister of State for Disabled People Mark Harper said: "Everyone deserves to be able to go Christmas shopping or enjoy a festive meal or drink with their friends or colleagues. Disabled people are no exception. I'm calling on the retail and hospitality industry to look at what more they can do to better cater for disabled people.
The Minister of State for Disabled People is urging shops and restaurants to improve their accessibility, as evidence has emerged that thousands of public places have barriers in place that make it difficult for disabled people to lead ordinary lives. The key findings of the research which spanned over 30,000 shops and restaurants nationwide found:
High street shops
A fifth (20 per cent) were not able to provide access for wheelchair users because of steps and no ramps;
Less than a third of department stores have accessible changing rooms for wheelchair users;
A third of department stores do not have an accessible toilet;
Two thirds (65 per cent) of retail staff have not been given any disability awareness training; and
Only 15 per cent of retailers have hearing loops for shoppers with hearing impairments.
(27,000 high street retail outlets audited)
In addition, 91% of the leading high street retailer s (105) provided no accessibility information about their stores on their own websites.
Restaurants
40% of restaurants have no accessible toilet;
Only 23% produce menus in large print for those with visual impairments;
Just 9% have hearing loops;
 Nearly half (45 per cent) of restaurant staff have not been given disability awareness training.
(3,716 restaurants audited)
In addition, only 14% of the leading UK restaurant chains (57) provided accessibility information about their restaurants on their own website, most of which was very basic.
Commenting on the research, DisabledGo Chairman and former Director of M&S and B&Q, Barry Stevenson, said: "We are pleased that many retailers have invested significantly in improved accessibility in the last 10 years, but the majority are still not doing enough. It's entirely unacceptable for disabled people, their family, friends and carers not to be able to access all high street shops and facilities.
"Without the right staff training people with a whole range of disabilities, not just physical ones – but those with hearing, sight or learning difficulties – are just not going to get the service they should expect when out shopping this Christmas. Disabled people are not asking the earth – just that management do what's reasonable and think more about how they can help disabled customers better. And that includes better communication about their accessibility online. It doesn't need to cost a fortune to do the right thing – and it could be the deciding factor for disabled customers between you and a competitor."
Find out more about DisabledGo.