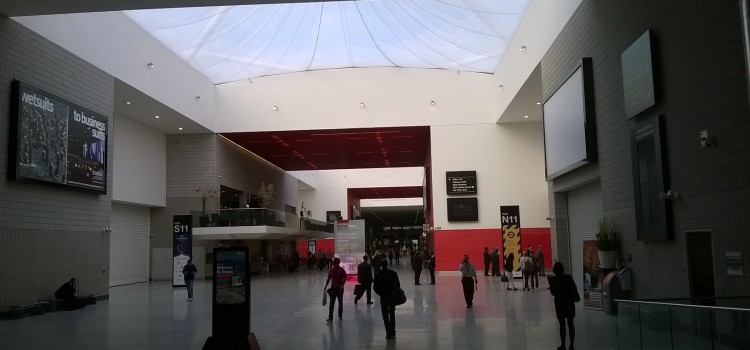 Here at Mapping for Change, we've been busy working on our latest project – the EU-funded My Accessible EU. Accessibility is a key issue in cities all over the world. However, for various reasons, plenty of people can often struggle to access services and facilities. These issues are likely to affect everyone at some point in their lives: as parents or carers with pushchairs, as wheelchair users, or more generally as people grow older and become less mobile. My Accessible EU hopes to raise awareness about these problems, and devise new tools and technologies which can help to make European cities more inclusive places for everyone.
On Thursday, Mapping for Change whizzed across the DLR to visit TFL's Access All Areas event at the ExCeL Exhibition Centre in the heart of London's docklands. The event promised an exciting array of speakers, including the Paralympian athlete, Tanni Grey-Thompson, as well as innovative presentations, and life-size representations of various vehicles and transport environments including an inflatable Overground train!
London's public transport system is vast and iconic, with over 24 million journeys made daily across a network of rails, roads and river vehicles. Plenty of TfL representatives were on hand to answer questions and receive feedback, alongside many charities, and innovative technology developers. There was even a chance to try out the Emirates Skyline!
The day provided an ideal opportunity for us to learn more about how accessibility issues are already being tackled across London's transport networks, and what further problems need to be overcome.
One important point raised throughout the day was that, when we discuss 'accessible transport', we need to include non-motorised vehicles. Members of the public and TfL staff alike were keen to emphasise the need for accessible walking and cycling. Presentations about how to facilitate this prompted many animated discussions, and several heated exchanges between drivers and cyclists!
'Accessibility' needs to be understood as something that affects all methods of transportation. Many people were quick to point out that any measures which increase accessibility for one mode of transport can often restrict accessibility for another. For example, when bike lanes are extended, they can often bisect footpaths, which may well negatively impact pedestrians – particularly those with visual or hearing impairments. Designers and transport planners need to consider how different networks overlap when adjustments are made to existing services. Panel discussions reinforced the need for any changes to be facilitated carefully, keeping the needs of different users in consideration at all times.
For many, the pinnacle of London's transport network is the tube, with 270 stations interlinked across 402km of track. However, as the world's oldest underground rail network, accessibility is not always its greatest strength.
For those less able to navigate steps, access is particularly restricted. Although some more modern lines such as the Overground and the DLR have step-free access to street level, the difficulty and expense of installing such facilities across the more historic networks has prevented TfL from taking mass action. For wheelchair users, even where lifts have been installed, gaps between the trains and platforms can restrict their access to trains. However, these conditions can also affect other groups, such as parents with pushchairs.
Representatives from Transport for All, buoyed by their recent victory with Crossrail to implement step-free access in all London stations, called on TfL to work harder to facilitate step-free access across the network. Their protests seem to be making significant headway. Later that day, Mayor Boris Johnson announced a £75m investment into lifts at 'around a dozen' London underground stations.
Aside from the network's physical conditions, negative attitudes or ignorance from staff seemed to be a further recurrent issue. Repeatedly, the need for more thorough training of transport staff emerged from audience feedback. One particular issue arose in relation to buses. Presently, all bus drivers are required to stop whenever they see someone waiting at a stop, regardless of whether that person raises their hand. However, for many, there is a widespread failure to comply with this procedure.
Plenty were vocal about such issues, including Anthony Ince, a wheelchair user who recently produced his own version of Jason Heptonstall's #racethetube video, which highlighted the barriers faced by those who require step-free access. Anthony called on TfL to conduct research into the psychological impact of being denied equal access to services.
Elsewhere, TfL were keen to explore the role that technological developments could play in promoting more inclusive access to services.
When it came to discussions of assistive technologies and navigational or 'wayfinding' mobile- applications, London generally emerged well, being described by John Wellsman from the charity Guide Dogs as a "technological playground". However, responsibility seemed to bypass TfL, and the discussion turned to the need for government to back investment across the UK to ensure a standard benchmark for services. As a member of the RLSB explained, where accessibility provisions in London are generally adequate, problems emerge as soon as you leave the capital, and services begin to "drop-out".
One visually-impaired individual was positive about the role his smartphone could play in journey planning, but felt that the difficulties often arose when en route. He explained how
It's all very well knowing which bus I need to take, but really I need to know a) where the bus stop is, and b) where the door to the bus is! I don't want to spend 30 minutes queuing at a tree.
Plenty of developers were on hand to offer technological solutions, including the digital interface designers, Ustwo. By using Bluetooth and iBeacon technologies, they've developed a mobile application called Wayfindr. This allows a smartphone to communicate with points in the built environment, and then relay information about its surroundings to the user through bone conduction headphones.
Applications such as this have the potential to be a great step forward for improved accessibility, however many audience members stressed the shortcomings of an approach based heavily on smartphone technology
I don't have a smartphone, and neither do I want one! You need to remember this when so much money goes into developing these things. Plenty of people need alternatives too.
Overall, the event raised many important points for us to take forward into further research, and we thoroughly enjoyed all the experiences on offer.
Do you have any particular issues with accessibility around London? We would love to hear from you! We're also keen to hear from anyone who regularly uses navigational or way-finding applications on their mobile or computer. What programs do you find useful? Or, what information would you love to see included? Don't hesitate to get in touch!