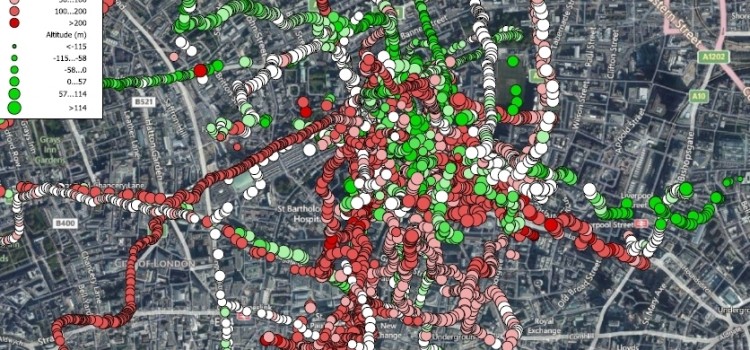 As part of the Science in the City project, residents of the Barbican Estate in the City of London monitored their local air quality between October 2013 and May 2014. Since February, residents have been using handheld sensors to track the presence of PM2.5 particulates* whilst on their everyday journeys and have managed to capture the effects of the dust storm in their community.
Twenty-five Barbican residents took part, carrying the sensors for up to five days each and making eighty-seven journeys in total. Although Science in the City focuses on air quality around the Barbican Estate, residents carried the sensors as far as Darlington and Cambridge providing a wealth of information illustrating changes in air quality across the country as well as in the Barbican area.
During the first week of April a dust storm from the Sahara blew across Southern England leaving a layer of dust and sand covering cars and causing the Met Office to advise the public to reduce exertion outdoors during this period. The impact of the dust storm on the air quality in London can be seen on maps created from data collected by Barbican residents at this time.
The map below shows journeys made by residents on April 2nd as the dust storm swept across London. The red data points indicate that sensor readings are above the current target level set by the EU for PM2.5 particulates  **.
The dust storm moved away from the UK by April 4th and air quality improved – as seen in the map below created with data collected by Barbican residents on this date. The map indicates a healthier level of air quality with sensor readings below the EU target level shown in green and readings at the target level shown in white. The few areas that remain above the target level are shown in red.
While not every week produced such extreme sensor readings the data collected by Barbican residents resulted in a huge quantity of information about the air quality around the estate that can be used by residents to make decisions about their everyday journeys and as evidence to campaign for better air quality in the local area.
The second part of the Science in the City project is now under-way working with residents of Mansell Street to capture the air quality of their local area.
* Particulates, or particulate matter (PM), are solid or liquid particles in the atmosphere. Particles less than 2.5 micrometres in diameter (PM2.5) are increasingly associated with negative health effects.
More information here: uk-air.defra.gov.uk
** An EU directive in 2008 introduced PM2.5 objectives aimed at reducing public exposure to fine particles. The target level until 2015 is 20 micrograms per cubic meter. From 2015 the level will be set at a percentage reduction from the target level with a requirement to achieve a level of 18 micrograms per cubic meter (or lower) by 2020.
More information can be found here: ec.europa.eu/environment/air/quality/standards.htm