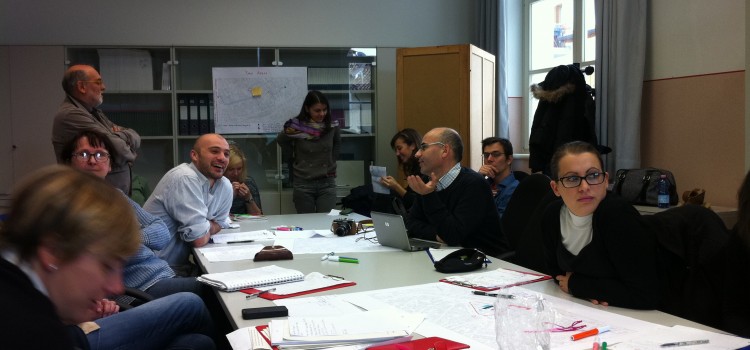 In September of last year Louise Francis, Director of MfC, went out to Udine to deliver a seminar and training session to students from the University of Udine,  visiting students from  the University of Oulu and employees of Vicin di Casa, a local not-for-profit organisation whose aim is to promote and facilitate access to housing by migrants. Students who attended came from courses on social work, and technology and education.
One of the principle objectives our Grundtvig partnership is to share methodologies used by partner organisations and institutions to assess their applicability and transferability in other local European contexts.
The aim of the two-day session was to:
 gain an insight into mapping processes from a theoretical point of view
 have an overview of mapping methodology based on case study presentations
 test some mapping tools and methods applied to an area in the city of Udine
The area around Udine railway station was chosen to explore during the seminar mainly because it forms the area of focus for the Grundtvig Project and is also where Vicini di Casa has a booth that provides information on housing and immigration to migrants in the region.
The context of exploring and mapping the area related to two main issues:
  exploring meaningful places in the area in relation to different groups and different space uses
  exploring feelings and perceptions in relation to spaces and activities.
Participants developed maps based on their practical field work and discussed some of the difficulties encountered. For example, it was clear that a couple of hours was not sufficient to carry out participatory mapping activities with the passing pedestrians, particularly when many people were not up for stopping to chat!   Also, carrying out mapping activities in a park to explore the use of space by different individuals requires the park to be open…
View Borgo stazione in a larger map; created by one of the group's during the practical exercise
Other limitations included the difficulties in unravelling a deeper understanding of local perceptions during such brief interactions and peoples' map reading abilities, or lack of. These are common factors encountered when using methods such as transects or rapid appraisals. This is why a range of methods need to be applied depending on the general aims and specific objectives for carrying out mapping activities, and more importantly the local context. Having said that, all participants acknowledged strengths in utilising participatory mapping and identified a number of opportunities in which it could be used within their particular fields.