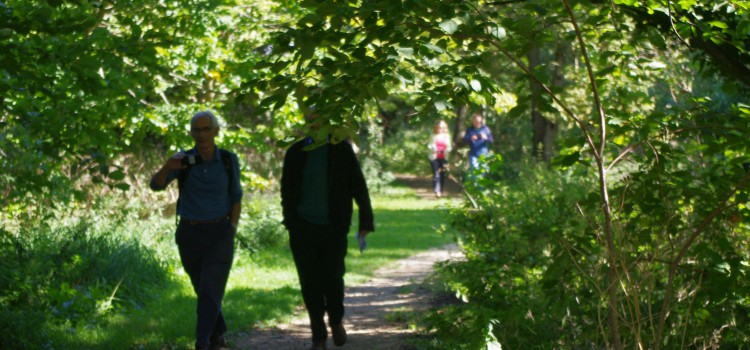 Our Access the National Trails initiative has seen happy mappers across the country collect more than 4400 photographs, covering a staggering 23,000 metres of footpath! With more images uploaded every week, we hope to hit 25,000 metres by the end of the year.
Coasts, cities, mountains, and valleys: the National Trails wind their way across 2,500 miles of English and Welsh land. Everyone has the right to Access the National Trails and, in many cases, they are already able to! However, there is currently a huge gap in the accessibility information available, meaning many accessible routes are currently lying undiscovered by wider audiences. Access the National Trails was established to collect clear information about the accessibility of paths, to enable wheelchair users and others with limited mobility to assess which routes are passable for them.
In our Oxfordshire and Yorkshire workshops, we headed out onto the paths with trail officers, community members and walkers' groups. After navigating a series of technical glitches in each location, we were able to use simple mobile applications to collect images and detailed information about particular obstacles. However, the purpose of Access the National Trails was to devise an easily-replicable strategy which would enable people to continue collecting information in their own time when out enjoying the paths.
We have been delighted with the enthusiasm shown so far! All 4,000+ images have been stitched together and are available to view via Mapillary – you will need to create a free account and log in first. With hard work from our partners at the University of Heidelberg, the tagged obstacles can now be viewed online too. The above screenshot is taken from the Yorkshire Wolds trail, where each red icon indicates where a particular obstacle has been tagged. When an obstacle is selected, a short description of it appears, and people can assess whether or not the route will be passable for them.
You can help more people to Access the National Trails! The more of us that work together, the greater coverage of paths we can provide. If you would like to be involved in collecting information on trails near you, step-by-step guidance on how to download and use the tools is available here. If you would like more information, do get in touch with us at info@mappingforchange.org.uk and we will be happy to support you!